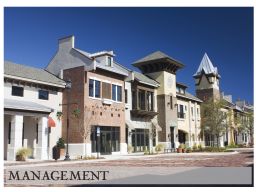 Property management takes care of the physical condition of a property; asset management takes care of the strategic needs of a property.
When is it time to buy or sell?
When does it make sense to renovate?
Will the property bring a better return if it is repositioned in the marketplace?
For property owners with commercial assets, Heirloom & Co. offers strategic business planning to answer such questions. Whether you are looking for long-term growth in value, short term disposition at the highest price or an assessment of strategic opportunities, we examine all the factors that affect the value of your property and develop creative asset management strategies designed to meet your objectives. And, like all of our services, we're not just going to develop a plan - we're ready to put action behind our advice and implement the plan on your behalf.
MANAGEMENT SERVICES:
At Heirloom & Co., our property management team is seasoned in developing a business plan for each property. The plan encompasses an operating budget, a detailed market analysis, and property assessment. From this information, we can develop an aggressive marketing plan and maintenance program that best suits property. Our staff is trained to provide tenants the services they expect. These techniques result time and again in occupancy levels and rental rates that out-perform the market.
Recognizing that no two owners or two properties are the same, we listen to our owners and their goals to develop the business plans and operating budgets that will assist them in reaching their objectives and maximizing their investments. Working with our owners, we find innovative ways to control costs while increasing property value and maintaining the highest levels of tenant satisfaction and comfort.
Our aggressive leasing team is knowledgeable of local market conditions while utilizing web-based data sources, the Internet, and tenant-rep brokers to target qualified prospects. The leasing team is supported by our marketing group. In addition to using highly visible Internet listings, our marketing specialists produce in-house customized leasing brochures and ads to attract qualified lease prospects. We are quick to respond to inquiries, thorough in our follow-up with all prospects, and successful in negotiating and closing the deal.
Our management services include a wide variety of capabilities with everything from the financial aspect of your investment to the daily management of building operations. Some of our financial services include budget projections, reconciliation & collection of tenant reimbursements, complete financial reporting, and property tax evaluations.
In addition, the services we offer to maintain successful operations of your property include overseeing insurance settlements, employment supervision of on-site staff or contractors, regular on-site inspections, supervision & evaluation of properties, and renovations/leasehold improvements.
Whether performing a minor face-lift or a major transformation of a property, Heirloom & Co. has completed building renovations from start to finish. We are experienced at helping customers generate a better return on their investments by directing their renovation dollars so they will have the greatest impact on income and property value.
Our seasoned construction experts interact with architecture and engineering firms and handle permitting, zoning and community issues. Our people are skilled at carefully implementing and managing construction plans, schedules, and costs.We are able to provide cost efficient and quality construction, because of our long term following of subcontractors.